EMS Foot Massager - For Lasting Foot Pain Relief
Healthier Legs After Just 15 Minutes of Use per Day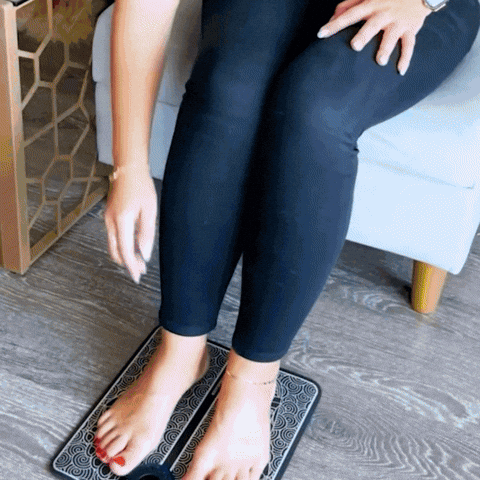 This revolutionary massager deeply stimulates foot and leg muscles through low-frequency electrical pulses, targets trigger points, and alleviates tension at the source for long-lasting relief.
✓ Relieves muscle Plantar Fasciitis, Neuropathy and Inflammation.
✓ Extremely effective solution for high blood pressure.
✓ Relieves leg swelling, improves the blood circulation and stimulates lymphatic drainage.
✓ 96.6% of Users Reported Feeling Immediate Relief.
✓ 45 Days Money-Back Guarantee.
Naturally Revitalises Your Feet & Legs
This device offers a unique combination of deep massages that prevents cramps, swollen ankles, stiffness, and sore feet. The electric pulses instantly activate blood circulation, reduce the appearance of varicose veins, and give your legs a lighter sensation.
✓ Effectively relieves cramps
✓Eliminates water retention and cellulite, aids foot comfort and recovery, and improves aesthetic appearance.
✓Proven to improve sleep quality by relieving nocturnal leg pain and calming the nervous system.
✓Alleviates neuropathic foot and leg pain, regenerating damaged cells and restoring normal peripheral nervous system function, for long-lasting relief.
✓ FDA-approved and no side-effects
*Contraindicated for people with pacemakers and not recommended for pregnant women
Doctor designed & Recommended
Podiatrists and massage therapists aren't always within arm's reach and can be very expensive.
The Mirogena® EMS Foot Massager has been designed by a leading podiatrist to get pain relief when you need it most.
For less than 1/5 of the cost of one therapist treatment, you can get results that last a lifetime.
Professionally recommended for:
People with foot pain caused by prolonged standing or sitting.
People suffering from neuropathy in the foot and leg.
Diabetics, promoting better blood circulation and preventing foot complications.
People suffering from venous insufficiency.
People suffering from plantar fasciitis, cramps, osteoarthritis-related pain, or other foot or leg pain.
No More Swollen Calves and Ankles
Unlike other products that only provide temporary relief from foot pain, this massager treats the source of the problem using revolutionary neuromuscular electrical stimulation (NMES) technology.
This technology sends out a unique combination of special pulses that instantly stimulate blood circulation, activate the right nerves in your feet, and promote the regeneration of damaged cells.
This technology:
✓ Instantly eliminates the pain
✓ Heals damaged tissue by increasing blood flow to the area.
✓ Increases strength, flexibility and mobility
✓ Restores the health of your feet
✓ Reduces swelling and inflammation
Easy To Use
After a long day of hard work or even simply wearing a pair of uncomfortable shoes, just 15 minutes of daily use relaxes your feet, helps you maintain healthy blood circulation in your legs, provides fast-acting relief from swollen legs and feet, and eases aching feet.
STEP ONE:
Attach the operator device to the foot mat, which uses three buttons to control different functions.
STEP TWO:
Place both feet on the mat, press the "+" or "-" button to turn on the device, and adjust the intensity. Press "M" to switch modes.
STEP THREE:
You are ready to experience a therapeutic massage in your own space. For effective results, use for 10–15 minutes a day, 3–7 days a week.
You can adjust the frequency and intensity to meet your requirements:
8 Modes — To meet your massage needs, intelligent artificial massage techniques can be freely combined according to personal preferences and the level of physical stress required.
19 Intensity Settings — Directly stimulate the acupuncture points, reduce physical and mental fatigue, and improve sleep.
Clinical Proof

96.6% of our customers felt instant foot pain relief.
91.5% of our customers reported a visible reduction in swelling.
90.9% of our customers COMPLETELY healed plantar fasciitis.
94.5% of our customers are using it daily and have recommended it to their friends and family.
This study investigated the impact of a novel foot neuromuscular electrical stimulator on physical functionand leg pain, symptoms, and blood flow in older adults over an 8-week treatment period.
The results indicated that the use of NMES led to increased blood circulation in the legs, which alleviated symptoms such as pain, cramps, heaviness, and tiredness.
Specifically, the application of NMES to the plantar surface of the feet caused the calf muscle to contract indirectly, thus activating the musculo-venous pump and improving circulation.
Source: Binoy K., Darren T., Tim W. Retrieved from: https://pubmed.ncbi.nlm.nih.gov/36242050/
The Best Treatment for Foot Pain
Pre-programmed device with clinically studied parameters + foldable EMS massage mat
User guide to set up your foot massager in three easy steps
High-quality storage box
Type-C USB cable
Each Purchase is Backed by an Iron-Clad, "45-day, 100% MONEY-BACK GUARANTEE"
Try it RISK-FREE for 45 days. If you don't get the desired results in as fast as 21 days or less, we don't want your money!

We are confident that our products work, and we encourage you to try them for a minimum of 21 days to experience the full benefits of Mirogena. If you are still unhappy and wish to return the items, you may do so after 21 days and within the 45-day period covered by our money-back guarantee.
Buying items online can be daunting, so we want you to know there are absolutely ZERO risks when buying something from us and trying it out. If you don't like it, no hard feelings; we'll make it right.
We work hard to bring you the best and highest quality products on the market. We ship all orders with tracking numbers and keep you updated while your order is in transit.
We have 24/7 email and online chat support. Please contact us if you need any assistance.

Why Choose Mirogena Technology® 
Find out why you should choose our ultimate massager instead of other devices.

Beware of other cheap models claiming to be "foot massagers". There are many counterfeits of our mirogena products, but they aren't manufactured in a laboratory environment and therefore lack the same quality and safety.

Authentic mirogena® products can be found EXCLUSIVELY on the official mirogena Technology website, in our stores, and at our partner pharmacies and doctors.